MONT RIGAUD EN ACTION! FITNESS TRAIL
-->
Are you planning to hike Mont Rigaud this season?
Take advantage of your mountain hike to try out the new MONT RIGAUD EN ACTION fitness trail, a collaboration between Action Sport Physio Vaudreuil and Mont Rigaud.
On a 1.6 km course you will find 10 poster signs offering cardiovascular, muscular and stretching exercises. It is recommended to do 2 sets of 10 repetitions and adjust according to your physical condition.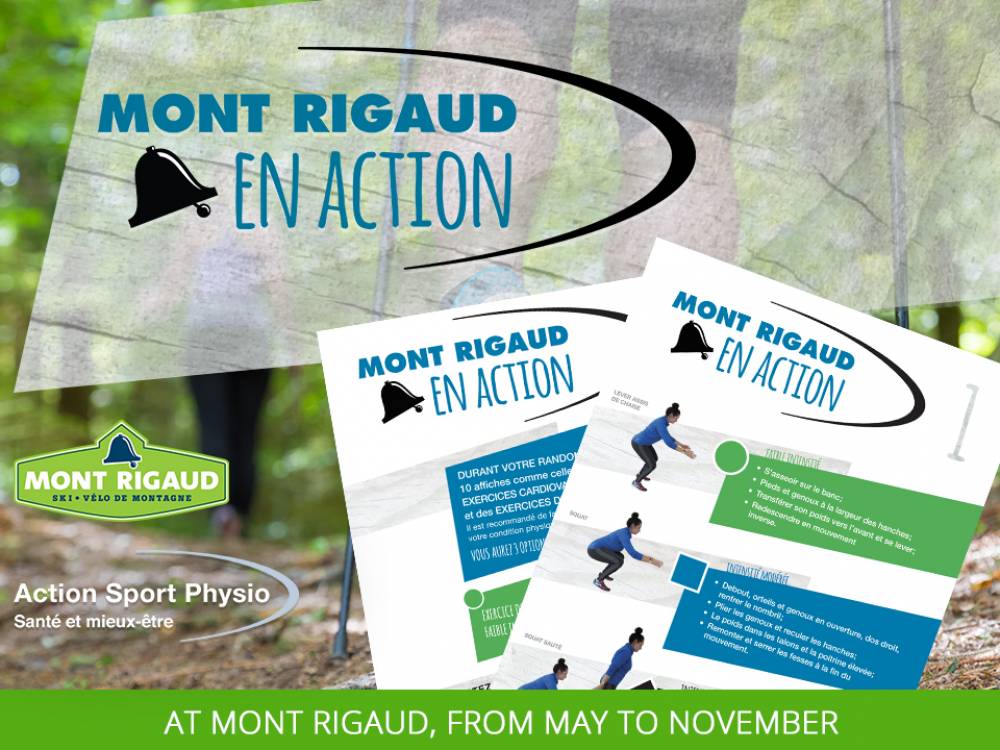 From the first poster sign, you will have 3 options:

GREEN = LOW INTENSITY exercises
BLUE = MODERATE INTENSITY exercises
BLACK = HIGH INTENSITY exercises
The MONT RIGAUD EN ACTION fitness trail is accessible every day, from May to November (according to our opening hours). A ticket ($) to access the mountain is required.
---
RESPECT YOUR LIMITS AND ADOPT A GOOD POSTURE!
HAVE A GOOD TRAINING AND ENJOY YOUR HIKE!
---
For any questions regarding the exercises, please contact Action Sport Physio Vaudreuil at 450-455-0111 or visit www.actionsportphysio.com