VANLIFE
NEW VANLIFE ZONE!
Our Vanlife Zone is a reserved area in the parking lot for RVs, Campers and Vans to spend one or more night at Mont Rigaud.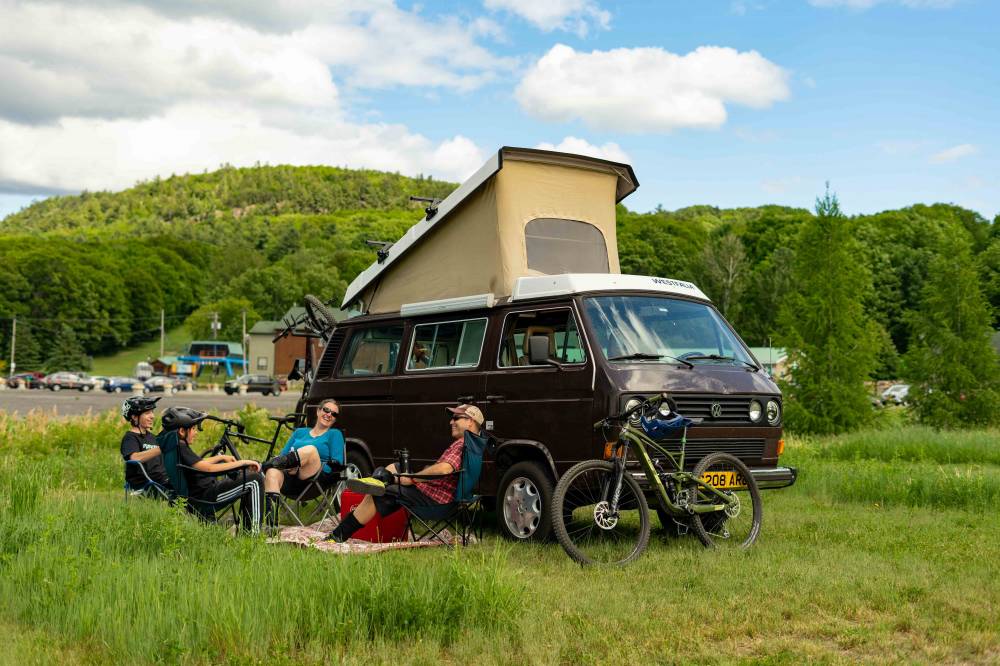 **It is important to note that it is not a camping site and that the zone is not on the mountain. 
Réservation obligatoire
Reservations are mandatory in order to secure your site in the Vanlife Zone. 
--> VANLIFE: RESERVE ONE OR MORE NIGHTS
List of rules 
1. REGISTRATION REQUIRED
You must register at the Ticket Office after 2pm the day of your arrival.
Access to the Vanlife Zone without reservation and without prior registration is strictly prohibited.
The space must be vacated before 12pm the day of your departure.
Should you wish to extend your stay, you must make arrangements at the Ticket Office (subject to availability).
2. DEDICATED VANLIFE SITES
Your vehicle must be parked on the assigned site.
There is a maximum of 1 vehicle per site.
Each site is 30 feet deep: your vehicule cannot exceed the site limits.
Additional fees apply should the driver of an RV, trailer, van or other vehicle set-up for sleeping wish to install a tent on his/her site.
The owner of a regular vehicle (not adapted for sleeping) may install up to 2 tents on his/her site.
3. SERVICES
All sites are without water and electricity.
Potable water and restrooms are available in the main chalet during opening hours.
Outside opening hours, potable water and portable restrooms are available outdoors, next to the main buildings.
We do not offer showers, nor sinks for washing dishes. It is not permitted to wash at the bike wash station, nor to do dishes in the restroom sinks.
Coffee, snacks, and cold drinks are available at the Bike Shop during opening hours.
4. MOUNTAIN ACCESS & MOUNTAIN BIKE TRAILS
A Vanlife Zone reservation does not include mountain access or mountain bike trail access. A daily right of access or membership is required (fees apply).
Any person wishing to access the mountain, or the mountain bike trails must pass by the Ticket Office to validate his/her right of access, and this every time he/she enters the site (even if you just returned to your vehicle for a few moments).
Pedestrians are strictly prohibited in the mountain bike trails. A Customer Service Agent can guide you to areas designated for hiking.
Mountain access and mountain bike trail access is prohibited after the Ticket Office closes. You must remain in the Vanlife Zone after hours.
5. PETS
Dogs are permitted on the site. However, for the safety of all our clients, and out of respect for others and the environment, they must be leashed at all times, and must remain on your site. You must also limit barking and pick up after your pets.
6. BBQ & FIRES
You may BBQ on your site if you have the proper equipment. Ground BBQs are prohibited.
Individual campfires are prohibited.
Fires are permitted only in the designated area (common firepit). The firepit may not be moved. It is forbidden to burn garbage or non-combustibles in the firepit.
Fireworks are strictly prohibited.
7. QUIET TIME
Quiet time is between 11pm and 7am. It is strictly forbidden to make noise during this time.
Prior to Quiet time at 11pm, moderate noise is tolerated, as long as it does not disturb our neighbours or other visitors.
8. LEAVE NO TRACE
Visitors must keep the site and sanitary installations clean.
Visitors must dispose of garbage and recycling in the designated area (containers next to the Ticket Office).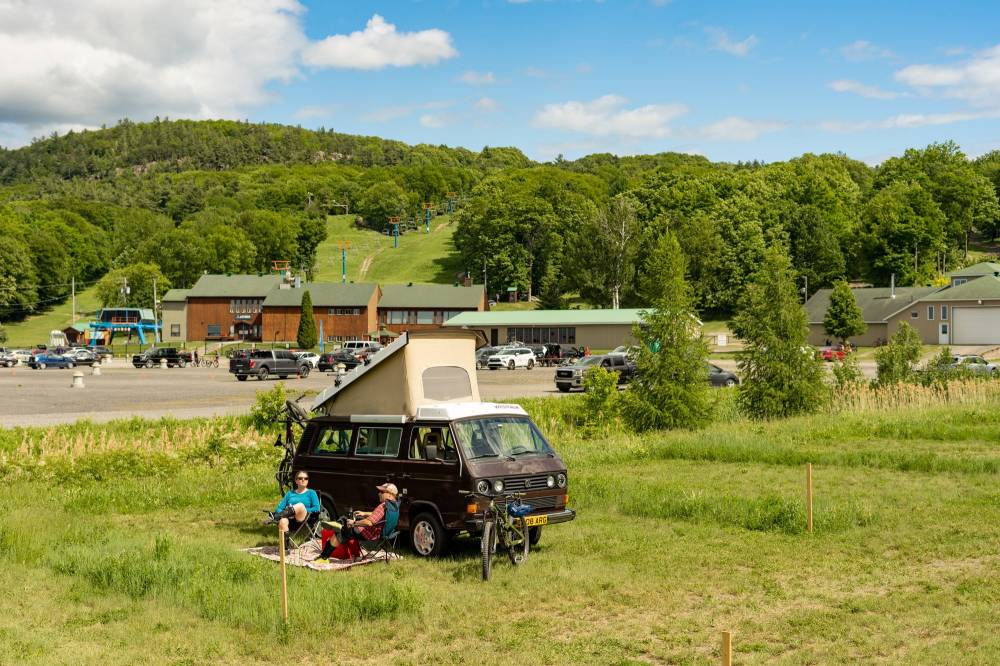 ---
General Conditions
Payment in full is required to reserve a space in the Vanlife Zone.

Cancellations or modifications to an existing reservation are accepted up to 24 hours prior to the original reservation.

Refunds, credits, or modifications to a reservation will not be granted less than 24 hours prior to the original reservation, and this regardless of the reason for the request.

WEATHER CONDITIONS: All mountain bike trails are closed during and after heavy rain. The Vanlife Zone and the rest of the mountain (hiking) remain open in all weather.

All taxes are included in our prices.

A right of access or a seasonal membership is required for anyone wishing to access the mountain, the bike trails or the bike park.