NEWS
INAUGURATION OF THE NEW MONT RIGAUD EN ACTION FITNESS TRAIL
18 September 2017
Hiking and fitness enthusiasts will be served! Action Sport Physio Vaudreuil and Mont Rigaud have created a brand new fitness trail that you can try out on your next hike! Come and meet us at the Festival des couleurs de Rigaud on October 7th, 8th and 9th to discover this new original way to get in shape!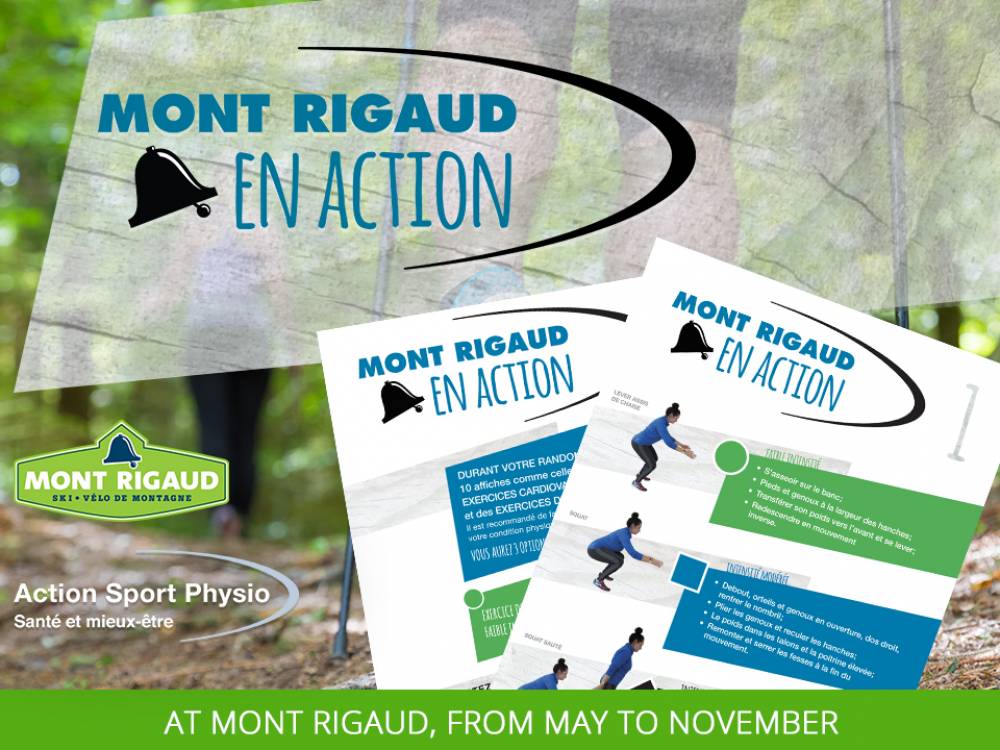 Hiking in action
Throughout this 1.6 km trail, you will find 10 poster signs offering various cardiovascular, muscular and stretching exercises illustrated and explained by Jessica Laniel, kinesiologist at Action Sport Physio Vaudreuil. Indeed, « it's a customizable and pleasant program to try out during your hike », Jessica supports.
The popularity of these famous fit-trails in the United States inspired the Mont Rigaud owners to recreate this kind of hiking adventure on his mountain. « It's important to get outside and keep moving, but it's even better when you can do it while having fun! With this course and the 3 levels of intensity, it's an easy family activity where everyone finds its account! » adds Maxime Besner, co-owner of the clinic. Hence the ingenuous collaboration of Action Sport Physio Vaudreuil in this project, which reflects the aspirations of today's society.
Throughout the year, you can enjoy all that the mountain has to offer, but this is a unique outdoor fitness trail in the area. « We are very pleased to invite you to the official inauguration where guided tours and information kiosks will be held to make you discover this magnificent site, which will once again be a proud host of the Festival des couleurs », adds Luc Elie, owner of Mont Rigaud.
Festival des couleurs
Inauguration will take place next October, 7th, 8th & 9th at the 20th annual Festival des couleurs de Rigaud. Come and experience the explosion of colors on the natural site of Mont Rigaud, where a variety of activities will be held in honor of the fall season. Action Sport Physio Vaudreuil will also take part in this festival displaying the color blue to let you discover this unique collaboration that is the Mont Rigaud en Action! fitness trail.
About Action Sport Physio Vaudreuil
Action Sport Physio Vaudreuil is a sports medicine clinic that has been well established in the area for 18 years. Ensuring a quality of care according to the highest standards, its health professionals are true experts in their fields. Being part of a network of more than 20 clinics offering a full range of multidisciplinary services for both athletes and the general population, their health professionals will ensure that you benefit from the scientific approach that is best suited to take care of your injury or health issue. For more information, visit www.actionsportphysio.com
About Mont Rigaud
Mont Rigaud offers a wide array of four-season outdoor activities. Known as the « Quebec's Ski Kindergarten », the resort includes 13 ski runs and a snow park for skiers and snowboarders enthusiasts. In summer, the mountain offers more than 16 km of mountain bike trails, hiking, as well as a summer day camp. A choice of various activities and the qualified staff will make your visit a very pleasant one. For more information, visit ete.montrigaud.com
Press contact(s):
Mont Rigaud 
Luc Elie     
(450) 451-0000  
321 des Érables, Rigaud (Québec) J0P 1P0
lelie@montrigaud.com 
Action Sport Physio Vaudreuil
Maxime Besner ou Jessika Lauzière
(450) 455-0111
11 Cité-des-Jeunes Est, suite 101, Vaudreuil-Dorion (Québec) J7V 0N3
jlauziere@actionsportphysio.com